AMA Processing Platform
The Sierra Real-time AMAStore® Processing Platform (SRAPP) mediation solution platform is compatible with the Nortel Networks DMS 10/100 Family of Switching Systems
The Integrated Host Server Platforms are Intel family microprocessor-based, open-architecture systems configured to operate as an intelligent AMA Teleprocessing Platform.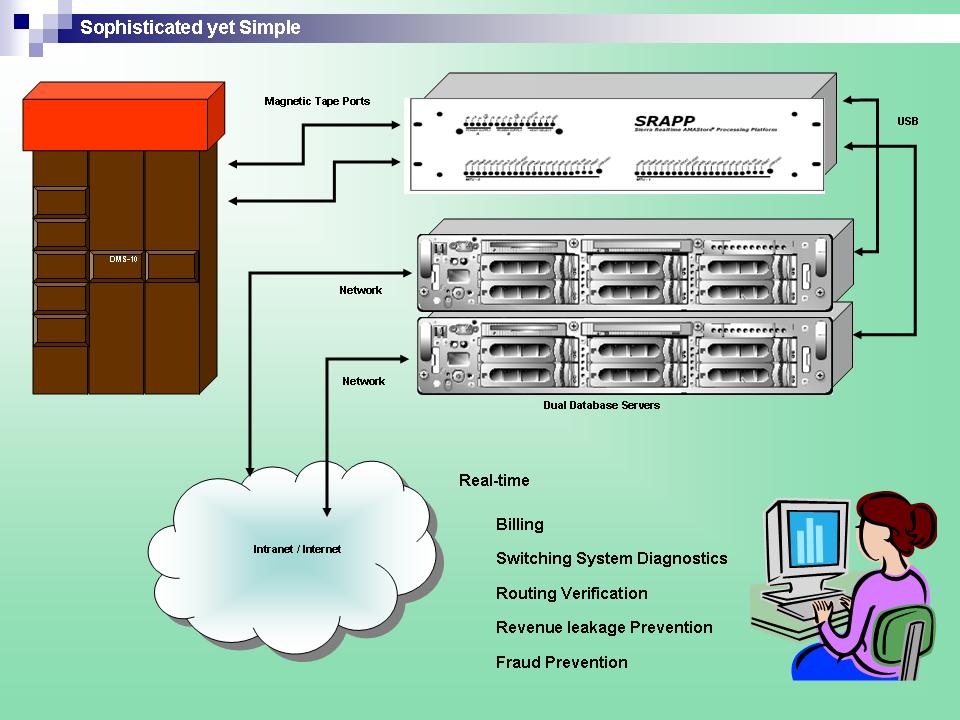 Delivered Fully Configured, Integrated, and ready for use
Major Platform Components Include:
Dual DMS to USB interface
Dual 48 Volt Office Battery Power Supplies
Dual / Redundant, Rack Mount, Intel-based Servers
Hot Swap Power Supplies
Hot Swappable, Raid Hard Drive Configurations
Windows 2003 Server Operating System
Integrated Windows 2005 SQL Server
AMAStore® Conversion Software
Operations Monitoring Console Application
Desktop Analysis and Reporting Application
EMI-210 Conversion Application
Call Analysis SQL Starter Suite
FEATURES
Straight forward Design
Switch – Interface – Server – Database – Network Access – Teleprocessing – Billing
Designed from the ground up to automatically process Nortel DMS switching system AMA records
SRAPP is not just a 9-Track Emulator – SRAPP is a comprehensive mediation Front-End Solution Platform
Simple USB Server Connection – no specialized host interface equipment
Connects directly To DMS MTU native Pertec / DMS EIA-422 Interface
Call data is stored transparently on redundant database servers with two isolated file systems
Processed and raw data is available over intranet and Internet networks for remote access and collection
Real-time and near Real-time Batch Processing of CDR and AMA records directly into a user friendly database. Place a call and look at call detail within seconds of making the call
Make test calls and quickly find it and review the calls AMA data
Preserves and records Switching System Tape Labels and AMA Control Records used for downstream auditing procedures. Information is stored in the dual database for easy retrieval and analysis
Storage capacity of over 700 Gigabytes
Tradesman Diagnostic Tools
SUBSYSTEMS

SRAPP consists of five major subsystems: Collection, Processing, Distribution, Storage, and Backup.
See a Screen Shot of the Main Recording Application
Collection
Data is retrieved into the system block-by-block and formatted into tape image files. A real-time background process then processes these files into logical components such as IBM or DMS standard tape labels, binary AMA data files, and batch header and trailer information. These files are stored and copies are sent to the Processing subsystem.
Tape Image files for down stream data deployment in IBM Labeled Tape format are cataloged, and placed in the Storage subsystem. These files provide the root data recovery source if re-processing is required
Processing
Another real-time background process now processes these files to the dual database host servers. All file conversion activity is logged and the files are made available to the Storage subsystem. Functions such as normalizing, filtering, reformatting, mapping, as well as other user-defined operations occur here. Normalized database tables are now ready for immediate System Query Language (SQL) analysis. Standard Belcore or Nortel AMA formatted binary flat files are placed in the Storage subsystem and are now ready for immediate teleprocessing and deployment to billing systems.
Header and Trailer tape label information, as well as AMA file Header and Trailer record information is cross-checked with processing counters and all information is stored to the dual database host servers. If discrepancies are found, the errors are recorded in the log files and a notification message is dispatched to all Remote Monitor Consoles.
Optionally, in real-time, another background processing task performs an integrated conversion process that builds EMI-210 formatted billing records. These standard EBCDIC encoded files are placed in the Storage subsystem ready for billing.
Storage
The Storage subsystem catalogues and places the processed files in shared disk space for a specified period of time. This shared disk space area is protected by standard and enhanced security mechanisms that allow and restrict access to the data in a security wise environment. Catalog and Log File information is provided in both Database Table format and Flat Text File format – flat text log files have their own directory. Database file catalog and log entries can be easily reported with SQL.
Files marked as being downstream processed are quickly and automatically moved to a sub directory for an additional selected period of time. The files remain here for recovery or re-processing by the system in the event of downstream failures. Files remain until taken off-line by the Backup subsystem.
Distribution
The Distribution subsystem supports file distribution to remote sites
Data can be pushed out over the network automatically using FTP or TFTP
Data can be pulled out onto the network using the integrated FTP Server
Other authenticated Windows systems can directly access the data
Unix systems can directly access the data using Network File System (NFS)
Backup
Dual Host Server Database Redundancy
Integrated Backup and Removal of processed information
Complete range of backup options
Backup to CD, DVD, Integrated DAT magnetic tape, or network drives
Automatic Backup to Integrated DAT magnetic tape, or network drives
SOFTWARE APPLICATIONS AND TOOLS INCLUDED
Multi-point Operations Monitoring Console Application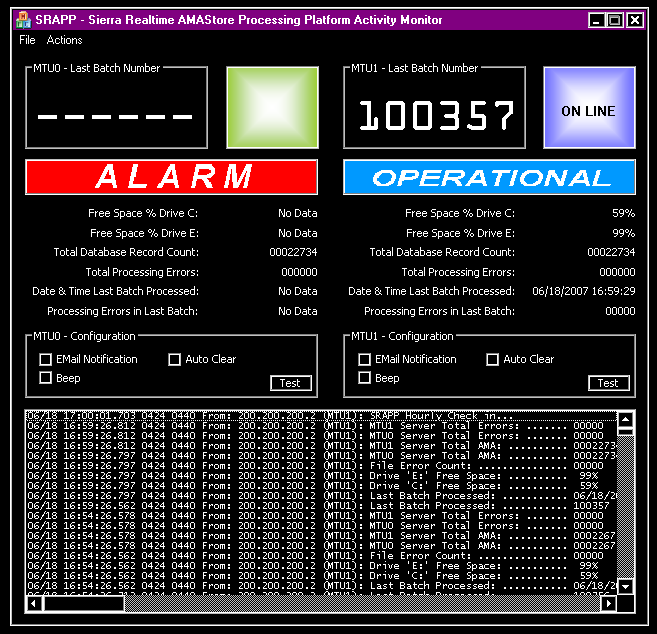 Brilliant Graphical Display – Easy to see normal and alarm activity
Intelligent Watchdog Alerting
Email notification of alarms and errors – with system status details included
Periodic "I Am Alive" notification by email
Low Level UDP broadcast error and alarm reporting
Simple Network Management Protocol (SNMP) Status and Alarm reporting for interface with existing Network Control Centers
Subsystem free disk storage monitors
Subsystem is alive
Remote activity logging
Easy to see visual representation of current batch processing statistics
AMAStore® is the front-end convergence processing application for SRAPP. AMAStore® is a complete integrated processing module that converts Automatic Message Accounting switching system records to a standard database format for rating, billing, analysis, and redistribution.
AMAStore® has been designed to provide high-power unattended batch processing of multiple AMA sources. AMA data collected in real-time is automatically processed to the common database without continual user interaction.
Detects and protects against duplicate blocks
User defined filtering, reformatting, and data validation
The ability to easily accommodate user-defined processing tasks
Proven compatibility with existing billing systems
Extensive error reporting and logging capabilities
Builds normalized congruent database tables independent of switching system type
Efficient high speed processing
No data is ever discarded
User Reporting and Analysis Application (AMAReport Desktop Suite)
AMAReport comes with the most popular analysis queries built right into the Windows based Graphical User Interface. These queries provide immediate access and review of switching system test call, routing, timing, and billing data.
Provides switching system tradesmen and management personnel with instantaneous verification of call data
Helps improve routing related profitability
Helps prevent fraud
Helps prevent revenue leakage at the source
Helps verify billing system accuracy
Helps verify Carrier Access Billing Charges
Helps detect and Report Transit Tandem Usage
Provides Real-Time AMA record search and report generation
Find and Report Wireless and CLEC terminating usage
CIC / OCN Usage Reporting
Traffic & Engineering / Busy-hour studies
Quickly locate and review tracers and call traps
Phantom Traffic Detection
Extensive Management Report Generation Tools
Comprehensive stock reports are provided with source code to help develop future reports
Generated reports are saved in the database itself, security allowing, once a report is created any user can call upon the report an re-execute it.
PLATFORM BENEFITS
Reduced Operation and Maintenance Costs
Instant Data Analysis and Reporting
Operating System is well recognized and intuitive – Use existing technical skill sets
Affordable Operating System and SQL Server Software
Minimal System Administration and Training Requirements
INHERENT RELIABILITY
Redundant hardware provided for both DMS MTU Ports (MTU0 & MTU1)
Redundant hardware provided for both Host Processing Platforms (Servers)
Automatic routine switching between both DMS Magnetic Tape Ports
Central Office Battery Operation
Redundant dual power supplies connect to both central office "A" and "B" battery sources
Host Server Raid Storage
SPECIAL CONFIGURATIONS
SRAPP has been certified for operation utilizing Microsoft Windows 64-Bit Technologies and Server Platforms. Interface with Unix Operating System is achieved utilizing Windowa Server 2003 R2 64-Bit Network Files System (NFS).
Web interface Optional
Because the SRAPP Host Server Systems are state-of-the-art open-architecture systems, it is possible to add processing module functionality including Data Filtering, Coping, Reformatting, Auditing and User Defined Distribution Processing.
In addition to the standard processing features, Sierra can provide custom processing modules based on user-defined requirements. Such modules can perform processing functions that automatically upload to centralized computing centers and ensure that important data arrives at selected destinations in a timely fashion.

For more information contact Sierra with your specialized telecommunications data processing requirements.
Intel is a registered trademark of Intel Corporation
NORTEL, DMS, BMC, and IBSR are registered trademark of Nortel Networks